Following a diet is one of the best steps to help you lead a healthy life and take care of your body. But with all the different diet options available, it can be complicated to be up-to-date with which are healthy, which ones suit you, and what foods you should avoid.
On a keto diet you eat fewer carbohydrates and consume more fatty foods to change how your body processes and receives energy. This diet has been a topic of interest in the health community since the 1920s. Simply put, by changing your diet, your metabolism adjusts to create energy in a different way. But is it safe for seniors?
The keto diet can work for seniors looking to shed some weight and build some muscle mass. However, due to the restrictive and complex nature of the diet, it can be difficult to maintain healthily for a long period of time. It's important to discuss any major diet changes with your doctor before implementing them to ensure you're not taking any unnecessary risks.
If you live in assisted or independent living and are considering the keto diet, let the team around you know so they can make sure you have access to the tools you need for a healthy lifestyle!
What Is the Keto Diet?
The ketogenic, or keto, diet has become increasingly popular. It involves eating significantly fewer carbohydrates than normal and substituting them with fattier foods. This forces your body to adapt to burning fat at a higher rate than usual, known as ketosis, which causes your liver to turn fat into energy for the brain and body.
There are several different variations of this diet, all focusing on different levels of carbohydrate intake and how much protein and fatty foods you consume. This diet is normally used for people looking to burn excess body fat, but it can also help with cholesterol problems. It's also known to help lower insulin levels in people with diabetes, and in some cases, it's even helped children with epilepsy.
However, this diet severely restricts what foods you can eat. Since carbohydrates are so popular, it can be difficult to find foods that you're able to eat while on the keto diet. You'd be avoiding bread and most types of grains, many sweet fruits, and most snack foods. It's important that you still take in the 25-30 grams of fiber the average adult needs per day to remain healthy.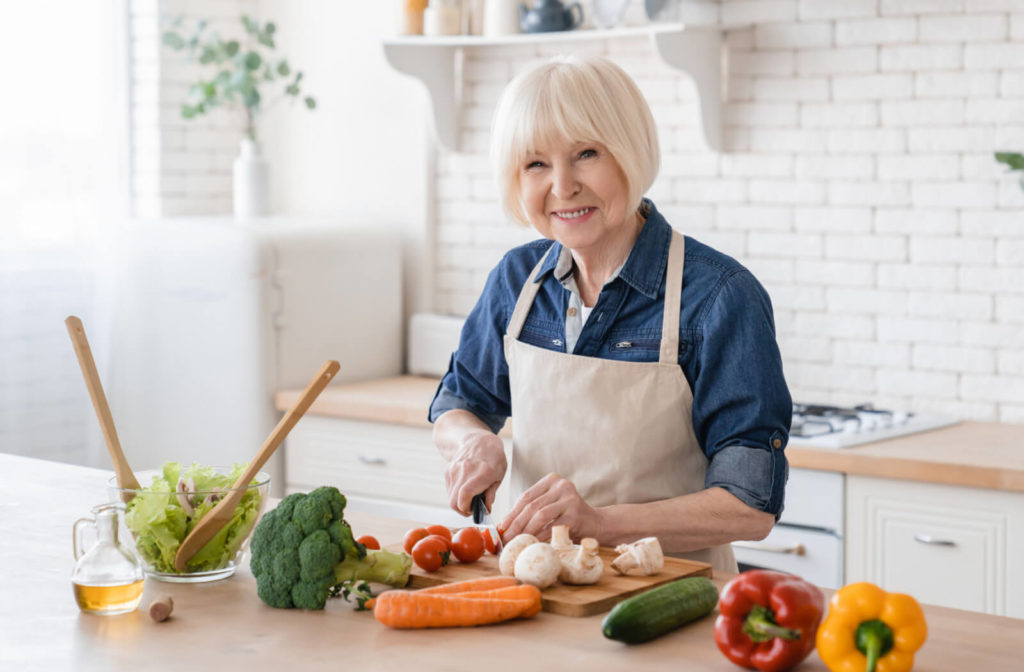 Is Switching to the Keto Diet Safe?
Before making any drastic changes to your diet, you should consult with your doctor or a nutritionist, or the team around you if you live in a senior community. They'll be able to help you understand exactly what the diet consists of, and learn about the side effects of any major diet change.
For example, when starting the keto diet, it's common to experience:
Bad breath
Fatigue
Insomnia
Digestive issues
Lower blood pressure
It's also important to note that since the keto diet is so restrictive, it can be difficult to get all the nutrients required for your body to stay healthy. As you age, it's common to have nutritional deficiencies and need supplements to accommodate what your body needs. With keto restricting most starchy or carb-heavy vegetables from your diet, those risks increase.
This makes it even more vital to speak with a doctor or nutritionist. They'll be able to recommend a solution for making sure you get the nutrients and vitamins you need to stay healthy and keep your body in shape. Even though the keto diet can be beneficial, you'll want to make sure you're not putting yourself at risk.
Should Seniors Do the Keto Diet?
If your doctor or nutritionist determines that the keto diet is safe for you and your lifestyle, then it could be a viable option for losing excess pounds. Keto can be the right choice for you as long as you're making sure your body gets the nutrients it needs to be healthy and you aren't at risk of developing any potential conditions.
It's important to note, though, that your health is the most important thing. If the keto diet isn't the right choice for you, or you're interested in pursuing an altered version of it or a different diet altogether, there are many different options available.
Make sure the people around you know that you're starting a new diet and may have a change in your energy levels. It's perfectly normal to need a little more sleep here and there when starting the keto diet for the first time.
If you're in an assisted living, independent living, or memory care community, make sure that the staff around you knows that you're changing up your diet.
Putting Nutrition First
At Urbana Place Senior Living, we help support our residents to give them what they need for a quality lifestyle, and that includes supporting their dietary needs.Schedule a tour with us today to find out how our supportive staff can help you or your loved one with a nutrition plan.