As dementia progresses, it becomes more difficult for a senior to do things in life. Memory care is an excellent option for seniors with cognitive problems who want to live a community lifestyle. But an older adult doesn't have to live in a retirement community to live their best life.
Dementia may not be preventable or curable, but many activities can help seniors. Whether by potentially slowing the condition down or simply improving the senior's quality of life, things like getting outside for a walk, throwing a ball, learning a new skill, or creating art can help improve a senior's life.
None of these is a magic bullet to take away the symptoms of dementia. But suppose an older adult is slowly finding it challenging to concentrate. In that case, Urbana Place Senior Living will introduce something like arts and crafts that could help strengthen their concentration and focusing abilities.
What Is Dementia?
To understand how the following activities can help a senior with dementia, let's look at what it is.
Dementia isn't a specific disease. Rather, it's an umbrella term that covers several diseases or conditions that affect memory and cognitive function. Many people use dementia and Alzheimer's interchangeably. But Alzheimer's disease is actually a specific form of dementia.
Contrary to what many believe, dementia is not a natural part of aging, although it's often age-related. The risk of developing it also increases with age.
The early stages of dementia aren't typically very complicated. Generally, they are filled with learning about the condition for the senior and their caregiver. Eventually, dementia may progress to the point where a senior needs constant care.
Inside Activities That Can Help With Dementia
Just because a person's mind and body change doesn't mean they can't still enjoy themselves. Below are 5 types of indoor activities that can be beneficial for seniors with dementia.
Cooking & Baking
Learning to cook or trying new recipes is a great hobby for older adults. It doesn't generally require a lot of strength or stamina and carries little risk. In addition to helping a senior focus and remember details, cooking or baking can also help relieve stress and anxiety, which is fairly common in seniors with dementia.
Learn a New Skill
Baking or cooking could be the new skill an aging adult learns. But the options are endless, and many senior living communities offer opportunities for residents to try new things or learn a new skill, like dancing or yoga.
Arts & Crafts
Creative outlets, like arts or crafts, may not directly lessen the severity of a person's dementia symptoms. However, evidence points to the uplifting and therapeutic effect of art therapy can help combat feelings of isolation and depression—both of which are commonly associated with dementia.
Games & Puzzles
Board games, card games, and puzzles all have the potential to be mentally stimulating and engaging. When choosing a game for a senior, the primary thing is picking one they enjoy. But picking games that engage their minds and senses typically provides the most benefit.
Simple Trivia
Depending on how far along their dementia has progressed, trivia may or may not be appropriate. If the senior still has appropriate memory, they may enjoy simple trivia. Not only does this provide opportunities for socialization, but it can help work those memory skills.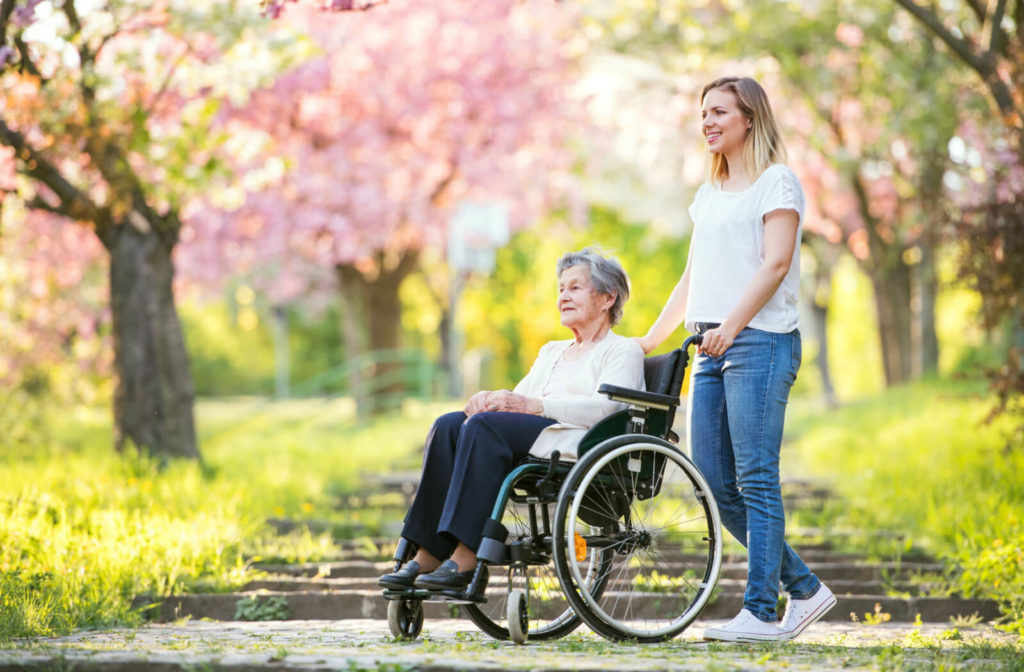 Outside Activities That Can Help With Dementia
Urbana Place Senior Living is situated in the beautiful Brooklyn Park area. Our residents have plenty of opportunities to get outside and stay active. The following are some outdoor activities that seniors with dementia can enjoy and benefit from.
Go For a Walk
Going for a walk may not necessarily improve cognitive function. However, several studies indicated that going for regular walks can dramatically reduce the risk of developing dementia. So, it stands to reason that walking is still beneficial after dementia shows up.
Play Catch
Catch isn't just a game for children. The repetitive motion of throwing and catching a ball can be soothing and help improve hand-eye coordination, which can begin suffering as dementia or Alzheimer's worsens.
One thing to keep in mind is the athletic skill level of the senior. So, a soft ball or bean bag is a good way to help avoid injury.
Feed Birds
If the senior lives in an area with a lot of wildlife, sitting and feeding the critters may be enjoyable. This is primarily an activity that provides calm and relaxation. Keep in mind that not all cities allow feeding wild animals, including birds.
Enjoy a Beverage
Sometimes, it's nice to sit and relax. Life with dementia can be stressful and anxiety-inducing for the senior. Sitting down with a cup of tea or coffee and listening to the birds with a fellow community resident may be helpful.
Find a Community That Fits
When looking for a place to spend retirement, it's important to consider possible future needs. Urbana Place Senior Living offers several living accommodations to suit your needs, reach out to our team today. The helpful staff can answer all your questions or book you a community tour.