Retirement is an exciting new phase of life, full of opportunities and possibilities. For older adults, choosing a retirement community is a big decision. Urbana Place Senior Living is here to assist!
Senior living communities offer a range of housing, floor plans, and amenities that can make the transition to retirement smoother and more enjoyable. However, choosing the right one for you or a loved one can pose a challenge.
Exploring factors such as location, lifestyle, cost, and care are some things to consider when choosing a retirement community that best suits your or a loved one's needs and preferences.
What Is a Retirement Community?
A retirement community is a residential community designed specifically for older adults. The main goal of retirement communities is to provide a safe and comfortable environment for retirees to enjoy their golden years.
Some retirement communities are age-restricted, meaning residents must be over a certain age, while others may allow younger residents. Retirement communities offer a range of options for retirees looking for a low-maintenance lifestyle and a sense of community with like-minded individuals.
Things to Consider When Choosing a Retirement Community
Choosing a retirement community is a significant decision that can impact your or a loved one's lifestyle and well-being in retirement. It's essential to consider various factors when making this decision.
Location
One of the essential factors to consider when choosing a retirement community is location. Do you want to be close to family and friends? Or would you rather live in a warmer climate or a place with a lower cost of living?
You can also consider the community's proximity to healthcare facilities, shopping centers, and entertainment venues and the availability of public transportation and accessibility.
Housing
Retirement communities offer a range of housing options, including apartments, cottages, townhouses, villas, and single-family homes. Consider which housing option best suits your needs and lifestyle. When choosing, you can consider the size, layout, and features of housing options that best fit your preferences.
Amenities & Services
Retirement communities offer a range of amenities and services that can make life easier and more enjoyable. Whether you're looking for independence or help with daily living, look for communities that offer amenities and services important to you, such as:
A kitchen or kitchenette
Furniture
Accessibility
Internet or cable
Health and wellness programs
Social, recreational, educational, and spiritual opportunities
Physician visits
24-hour onsite staff
Meal options
Community rooms
Group activities
Daily check-ins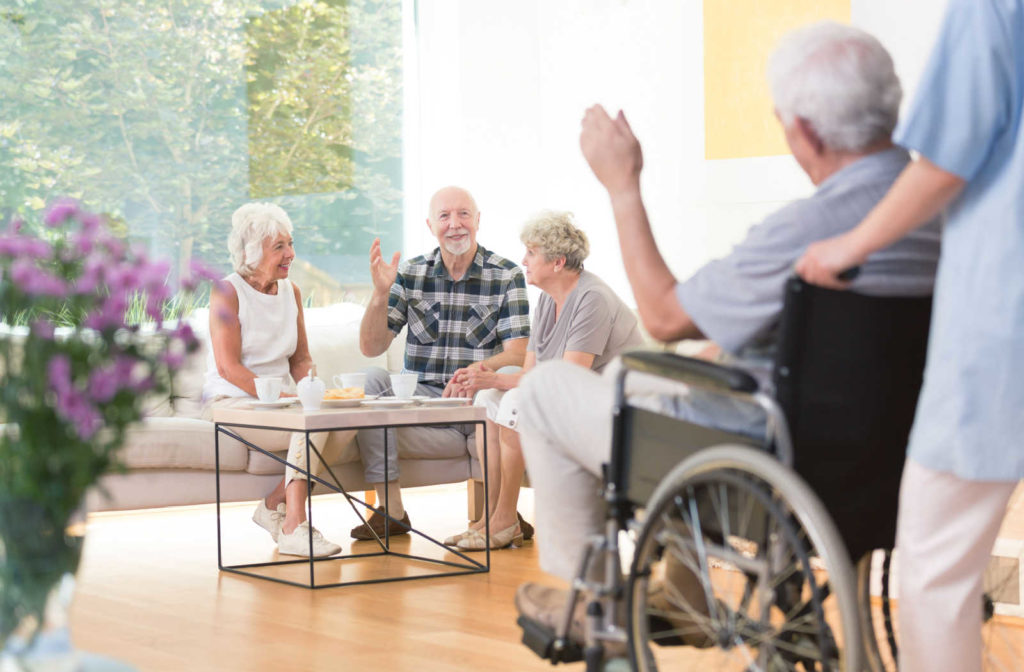 Community Culture
Retirement communities have their unique culture and social environment. Consider the community's atmosphere, the types of activities and events offered, and the age range of the residents.
If you prefer an active and social lifestyle, look for a community that offers a range of opportunities to do something new and exciting and ignite your passion and creativity. Alternatively, if you prefer a quieter lifestyle, look for a community with a more relaxed atmosphere.
Lifestyle
When looking for a retirement community, choose one with lifestyle options that can provide the exact level of care you or a loved one needs.
Independent Living
Independent living helps you maintain your independence by freeing up time to do the things you love. Independent living may be for you if:
You may want help with daily tasks such as housekeeping.
You crave a sense of community.
You want more convenience and free time.
Assisted Living
Assisted living offers as much independence as possible by providing help for daily living activities. Assisted living may be for you if:
You have trouble moving around, maintaining personal hygiene, and cooking meals.
You have trouble remembering things.
Memory Care
Memory care offers the best level of care for older adults with Alzheimer's disease and dementia. Memory care may be for you if you or a loved one has a memory or cognitive impairment, health risks, and can benefit from an improved quality of life.
Cost
Retirement communities can vary widely in price, so it's essential to consider your budget when choosing. You can look at the monthly fees, additional costs, and affordable payment plans to determine if a community is within your budget.
Your Perfect Home & Community
Without information, choosing a retirement community can be a daunting task. With careful research and consideration, you can find the ideal retirement community to make your retirement years enjoyable and fulfilling.Contact Urbana Place Senior Living or schedule a tour to learn more about our community and how we can meet your or a loved one's needs.